Speaker
Ryan J. Vega, MD, MSHA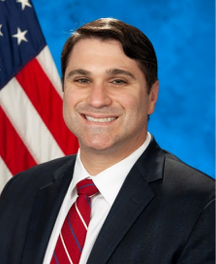 Chief Officer, Office of Healthcare Innovation and Learning
Veterans Health Administration (VHA), USA
Dr Ryan Vega serves as the Chief Officer for the Office of Healthcare Innovation and Learning as part of the VHA DEAN's Office (Discovery, Education and Affiliate Networks). In this role, he has direct responsibility for (1) fostering the discovery and spread of grassroots and strategic innovative solutions, practices and products across VA; (2) advancement of competencies in innovation and simulation through workforce development; (3) combining the use of clinical simulation and training to further enhance the utilization and uptake of emerging healthcare technology in clinical practice; (4) developing innovative approaches to testing payment and service delivery models to reduce expenditures while preserving or enhancing quality of care; and (5) advancing the use of clinical training and simulation to advance VHA's mission of becoming a high reliability organization. Dr Vega holds academic appointments as an Adjunct Assistant Professor in the Department of Health Administration at Georgetown University as well as a Clinical Assistant Professor of Medicine at George Washington University.
Prior to his current position, Dr Vega served as the Chief Quality Officer at the Richmond VA Medical Center and Assistant Professor of Medicine at the VCU Health System. He also recently served for two years as the Chair of the National Quality, Safety, and Value Council for the Electronic Health Record Modernization (EHRM) effort. Dr Vega completed his residency training in internal medicine at the VCU Health System in 2015 where he also served as Chief Medical Resident and the VA Chief Resident for Quality and Safety.
With eight years of clinical training and experience, Dr Vega is board certified in Internal Medicine and has been involved in research and practice in the areas of health informatics, clinical quality improvement, patient safety, and clinical innovation and implementation. He is a graduate of the Intermountain Advanced Training Program in Clinical Quality Improvement and his partnerships extend to work with VA clinical and non-clinical leaders across the health care system, including non-VA external stakeholders across the nation. Dr Vega is a recipient of numerous awards for his work in healthcare innovation and has published numerous articles on this topic.
CAREER CHRONOLOGY:
2020 – Chief Officer, Healthcare Innovation and Learning, Veterans Health Administration
2019 – 2020 Executive Director, VHA Innovation Ecosystem, Veterans Health Administration
2018 – Chairman, National Quality, Safety, and Value Council, Electronic Health Record Modernization (EHRM), Office of EHRM, Veterans Affairs
2017 – 2019 Director, VHA Diffusion of Excellence, Veterans Health Administration, Washington, DC 2017 – 2017 Chief Quality Office, McGuire Veterans Affairs Medical Center, Richmond, VA
2015 – 2017 Liaison for Institutional- House-Staff Quality and Safety Initiatives, Virginia Commonwealth University Health System and McGuire Veterans Affairs Medical Center, Richmond, VA
2016 – 2017 Physician Lead, Clinical Command Center, Office of Chief of Staff, McGuire Veterans Affairs Medical Center, Richmond, VA
2015 – 2019 Academic Hospitalist, McGuire Veterans Affairs Medical Center, Richmond, VA
EDUCATION:
2017 Masters of Science of Health Administration, Virginia Commonwealth University, Richmond, VA
2011 Doctor of Medicine, LSU School of Medicine, New Orleans, LA
2005 B.S., Psychology; Minor, Biological Sciences, Louisiana State University A&M, Baton Rouge, LA