Speaker
Marcin Czech, PhD, MD, MBA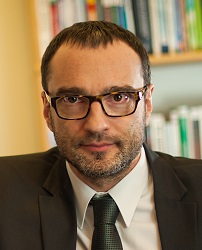 Head, Department of Pharmacoeconomics, Institute of Mother and Child, and Business School, Warsaw University of Technology, Warsaw, Poland
Former Undersecretary of State/Vice Minister, Polish Ministry of Health, Poland
Marcin Czech - undersecretary of State/ Vice-minister in the Ministry of Health in Poland in the period of 07.2017-01.2019, is a medical doctor by education with a PhD in medicine, he completed PhD studies in management, MBA, postgraduate program in Health Economics.
He finished his university training in socio-economic evaluation of medicines at the University of York, at the University of St. Andrews, the advanced course on socioeconomic evaluation of medicines at McMaster University and several certified specialty courses. He also served an apprenticeship at the Management School of the University of Liverpool.
Marcin Czech works as a university professor at the Advanced Management Program in Pharmacoeconomics, Pharmaceutical Marketing and Law and holds the position of a Course Director of the Postgraduate Interdisciplinary Programme of Pharmaceutical Excellence at Business School, Warsaw University of Technology. In addition he leads the Department of Pharmacoeconomics at the Institute of Mother and Child in Warsaw.
He is an author and co-author of books and articles in the field of pharmacoeconomics, drug policy and management. His main research interests cover metabolic disorders, including diabetes and cardiology.
He is a member founder of the Polish Society of Pharmacoeconomics - ISPOR Polish Chapter, in the period of 2004-2006 he was the president of this organization, now President-Elect. He is also a member of the Board of Directors at the Society of Co-ordinated Care.
In July 2017 was nominated to the position of Undersecretary of State/ Vice-minister in the Ministry of Health in Poland responsible for drugs policy, pharmacy and international co-operation. Previously he held the position of the Real World Evidence Principal for Eastern Europe at IQVIA, a consulting company responsible for 30 countries of Eastern and Central Europe. Prior to that he was working in regional European positions at Novo Nordisk in market access, health economics and public affairs and at Servier Poland leading the team responsible for pharmacoeconomics and pricing.