Speaker
Elena Bonfiglioli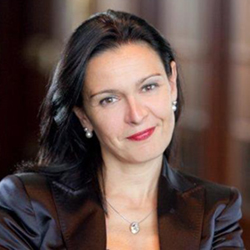 Senior Director, Health Industry, Europe, Middle East and Africa
Microsoft, Brussels, Belgium
As lead for Health and Life Sciences in Europe, Middle East and Africa, Elena is responsible to drive strategy and business development for public health and pharma, working together with a community of over 150+ professionals across the region. Elena spearheaded key initiatives on Health 4.0 and health digital transformation. Mobilizing a core group of industry stakeholders, Elena started the European Cloud in Health Advisory Council, a vendor-neutral C-level forum aimed to foster cloud-first innovation in the health sector. The Council promoted two Calls to Action: one on Health Data Saving Lives and Protecting Patients' Rights (eHealth Week 2017); and Trust in the Cloud, leading with cloud-first policies (eHealth Week 2016). In July 2017, Elena was elected to the HIMSS Europe Governing Council. In 2013, working with a group of leading e-Health partners, Elena led two industry-wide go to market and advocacy positions on innovative health services; the Manifesto for a Healthier Europe and Healthier Cities.

From 2007-2012, Elena held the role of Senior Director Health and Education Policy in Europe, when she led the creation of the Employability Alliance aimed to empower 20 Mil people with Skills for New Jobs. Elena started at Microsoft in 2003 as Director of Corporate Affairs and Corporate Responsibility. She is the co-founder and Board Member of the Women in Leadership (WiL) Network, a joint effort between Microsoft, INSEAD and the Women Forum.
Before joining Microsoft, Elena worked for CSR Europe as Director of Corporate Programs - in charge of stakeholder engagement and CSR initiatives across member companies; actively contributing to the development of the CSR agenda at policy level in Europe. Elena co-founded the European Academy of Business in Society where she served as interim Executive Director.
Elena is part and founding member of the Centre for Evolutionary Management, a network organization aimed to support executive development through corporate meditation.