Speaker
Oscar Espinosa, MSc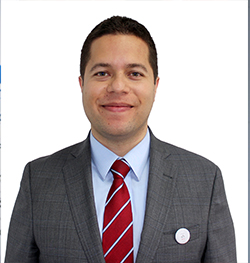 Institute of Technology Assessment in Health
Economist Graduated with distinction and Magister in Statistical Sciences graduated with distinction of the Universidad Nacional de Colombia. Citizen Data Scientist certified by CAOBA. Scholar of the Doctoral School 2019 in Neurosciences of the Pontificia Universidad Católica de Chile. Currently, he is the Coordinator of the Analytical Unit of the Technological Health Assessment Institute. Founder and Director of the Research Group on Economic Models and Quantitative Methods (IMEMC), recognized by Colciencias. With articles published in national and international indexed journals. Advisor of Master Thesis in Quantitative Finance, Epidemiology and Economic Sciences.

His areas of work and research interest are focused on the topics of quantitative management of health risks, actuarial sciences of social security, statistical modeling of non-linear multivariate time series, financial and Bayesian econometrics, corporate governance and economy of the innovation.
Economista Graduado con Honores y Magíster en Ciencias Estadísticas con Distinción Meritoria de la Universidad Nacional de Colombia, Certificado como Ciudadano Científico de Datos por el Centro de Excelencia en Big Data & Data Analytics (CAOBA). Becario 2019 de la Escuela de Verano Doctoral en Neurociencias de la Pontificia Universidad Católica de Chile. Actualmente se desempeña como Coordinador de la Unidad de Analítica del Instituto de Evaluación Tecnológica en Salud. Asimismo, es el Director y Fundador del Grupo de Investigación en Modelos Económicos y Métodos Cuantitativos (IMEMC) del Centro de Investigaciones para el Desarrollo (CID) de la Universidad Nacional de Colombia. Asesor de Tesis de Maestría en Finanzas Cuantitativas, Epidemiología y Ciencias Económicas. Cuenta con publicaciones científicas indexadas a nivel nacional e internacional.
Sus áreas de interés laboral y de investigación se encuentran enfocadas en los tópicos de gestión cuantitativa de riesgos en salud, ciencias actuariales de la seguridad social, modelación estadística de series de tiempo no lineales multivariadas, econometría financiera y bayesiana, gobierno corporativo y economía de la innovación.