Speaker
Manuel Espinoza, MD, MSc, PhD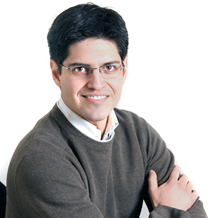 PONTIFICA UNIVERSIDAD CATÓLICA
Manuel Espinoza is Associate Professor in the Department of Public Health and Chief of the Health Technology Assessment Unit, both at Pontificia Universidad Católica de Chile. He also is Visiting Honorary Fellow in the Centre for Health Economics at University of York, and Consultant for the Interamerican Bank of Development.
Espinoza has served as advisor and consultant for several public entities in Latin America, as well as institutions such as the World Bank and World Health Organization.
He holds a medical doctor degree and Master in Epidemiology, both from Pontificia Universidad Católica de Chile; a Master in Biostatistics from Universidad de Chile, and Master and PhD in Health Economics, both from University of York in the UK.
His work has been focused on the development of methods and processes for prioritization in healthcare, as well as applied research in health economic evaluation.