Speaker
Edith Frenoy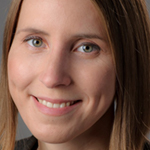 Director Market Access, HTA
European Federation of Pharmaceutical Industries and Associations
Edith Frénoy is Director Market Access, HTA policy lead at the European Federation of Pharmaceutical Industries and Associations, the representative voice of R&D-based pharmaceutical industry in Europe.
Edith is in charge of driving the industry strategy on health technology assessment at European level, as well as several key EFPIA priorities in the field of pricing and reimbursement and market access of pharmaceuticals and orphan medicines.
She joined EFPIA in 2007. Her experience covers market access, orphan medicines and rare diseases, public and government affairs, research projects.
Edith, a French and German national, holds a Master of Science in Health Economics from the London School of Economics, as well as a Master of Arts in European Studies from the College of Europe.