Speaker
Mouna Jameleddine, PharmD, MSc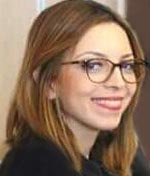 Head, Health Technology Assessment Department
National Authority for Assessment and Accreditation in Healthcare (INEAS)
Dr. Mouna JAMELEDDINE is head of the Health Technology Assessment department at the National Authority for Assessment and Accreditation in Healthcare (INEAS), of which she was a founding member, in charge of implementing HTA activities aiming to build an HTA based ecosystem for decision-making in Tunisia. She led the elaboration of the first HTA reports and guidebooks in Tunisia. She is currently Director in the board of INAHTA
(International Network of Agencies for Health Technology Assessment).
With more than 10 years of professional experience in public health, Dr. Jameleddine was previously a senior Pharmacist doctor at Kassab university hospital and worked, in 2014, for the Minister of Health's office where she collaborated with the Minister's special advisor on defining health and pharmaceuticals' policies, besides carrying out several studies for national projects. She actively participated in national committees like the Societal Dialogue on Health Strategies and Policies involving Healthcare key opinion leaders and civil society.
She has authored many scientific publications and communications and acted as a reviewer of manuscripts for scientific journals like the International Journal for Technology Assessment in Healthcare (IJTAHC). She also participated to the elaboration of international HTA guidebooks. She is an active member of HTAi and actively contributed to several HTA conferences and capacity building activities in many countries, especially in the MENA region.
Holder of a doctorate in pharmacy, Ms. Jameleddine followed a Master of Science Program in «Drug development » at the Faculty of Pharmacy of Monastir. She graduated in « Pharmacoeconomics of drugs and medical devices » at the Paris Descartes University, where she also followed a post-graduate program in "European Market Access".
You Might Also Be Interested In...