Explore the news and reporting from Virtual ISPOR 2021 in the News Center with curated stories on cutting-edge topics from the conference. A very special thank you to our Virtual ISPOR 2021 Media Partner—The Evidence Base—and to all the media outlets who reported on the conference.
ISPOR 2021: HEOR—Evolving for Tomorrow's Challenges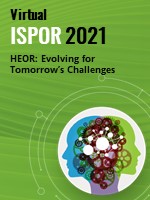 During 2020, many professions, research fields, and industries were forced to an inflection point, requiring verification of direction and opportunities to chart a new roadmap for development. Healthcare systems' resilience and sustainability is being tested to its maximum, challenging prepandemic priorities under unprecedented resource constraints. This has highlighted opportunities and challenges in HEOR methods, practices, and application including our ability to respond effectively.
Virtual ISPOR 2021: inside the plenaries – towards 'HEOR 2.0' [The Evidence Base]
Virtual ISPOR 2021: Exploring Economic Evaluation Methods for Medical Devices – Day 3 Abstract Highlights [The Evidence Base]
Virtual ISPOR 2021: Accounting for 'Genericization' in Cost–Effectiveness Analyses – Day 2 Abstract Highlights [The Evidence Base]
Virtual ISPOR 2021: Real-World Data Sources in Japan – Day 1 Abstract Highlights [The Evidence Base]
Adaptation and Evolution in HEOR – Editor's picks ahead of Virtual ISPOR 2021 [The Evidence Base]
5 Topics of Interest at Virtual ISPOR 2021 [AJMC]
Dr Lou Garrison on the Layout of ISPOR 2021, Sessions to Look For [AJMC TV Video]
Meeting Round-Up: ISPOR Annual 2021 [The Academic Health Economists' Blog]
Healthcare System Resilience and Sustainability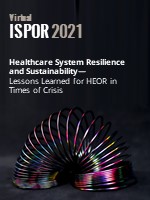 COVID-19 has brought the strengths and weaknesses of health systems around the world into sharp relief. Health systems have responded more quickly and more cohesively than many thought possible. This first plenary session explores how HEOR experts can help build resilient healthcare systems, considers what useful lessons we have learned from the pandemic, and examines what health systems need from the HEOR community to help build resilience and sustainability in healthcare systems.
Building a More Resilient and Sustainable Health System [AJMC]
Dr Vivian Lee on HEOR Integration Amid COVID-19, Implications for Value-Based Care Transition [AJMC Video]

Additional related ISPOR content includes:
HEOR in the Era of COVID-19 [On-Demand Plenary Session Featuring Mark McClellan, MD, PhD, Duke-Margolis Center for Health Policy]
Public Health... Economics?

The COVID-19 pandemic has highlighted major methodological issues regarding the assessment of value, the trade-offs involved, and the approaches to estimating the public health and economic consequences. This plenary session explores an expanded perspective on HEOR scope and application and examine, in turn, possible lessons for our consideration of value and its assessment.
Dr J. Jaime Caro Discusses Influence of HEOR, Public Health Amid COVID-19 [AJMC Video]
Additional related ISPOR content includes:
How Should The COVID-19 Pandemic Challenge Conventional Wisdom About HTA/VA? [ISPOR-IVI Webinar 1 of 5]
COVID-19: Are Our Methods Up To The Task? [ISPOR-IVI Webinar 2 of 5]
Balancing Economics and Ethics: How Can VA/HTA Support Equitable Resource Allocation? [ISPOR-IVI Webinar 3 of 5]
The Role of Public Health – How can VA/HTA Inform Pandemic Policy Interventions and Public Resource Allocation? [ISPOR-IVI Webinar 4 of 5]
Using VA/HTA in Pursuing Innovation and Access in a Pandemic [ISPOR-IVI Webinar 5 of 5]
Novel Collaborations and New Players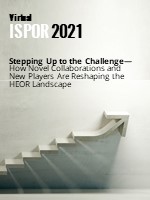 New and interesting HEOR collaborations are emerging to address the extraordinary challenges many countries face today with their health systems and that also focus on health technology innovation. This session brings together thought leaders from government, payers, technology, and academia who are doing things differently in healthcare to share examples and thoughts on how this may reshape the world of HEOR.
New Partnerships Bring New Opportunities, Challenges With Data in HEOR [AJMC]
Dr Amy Abernethy: Collaboration Key to Optimize Interpretation of Data in the Evolving HEOR Landscape [AJMC Video]

Additional related ISPOR content includes:
ISPOR Science Strategy [ISPOR Publication]
ISPOR's New Science Strategy - A Member-Generated Roadmap of HEOR Priorities and Frontiers [ISPOR Webinar]
HTA, the Patient Perspective, Vaccines, and More
Additional News From the Conference

Disclaimer:
The reporting on Virtual ISPOR 2021 from external news sources reflects the views of the authors/media outlets and is not endorsed by ISPOR.