Speaker
John G. Singer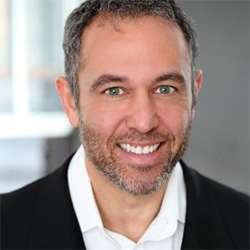 Blue Spoon Consulting, New York, New York
John is Executive Director of Blue Spoon Consulting, a leader in strategy and innovation at a system level. Blue Spoon helps business and government alike see and enact large-scale system change through a portfolio of services and solutions based on 'Big Design,' a ground-breaking methodology for strategic transformation.
John brings a complete vision for New Strategy from extensive experience in innovation consulting, policy and communications, digital health and technology sales, pharmaceutical brand management, alliance management and industry thought leadership across all dimensions of the global health sector, including pharmaceutical, medical device, biotechnology, payer and provider clients. He specializes in re-configuring markets and helping clients navigate the transition space to compete on health system value.

John has published new business thinking and ideas in some of the most influential media in the world, including MIT Sloan Management Review, the Wall Street Journal, the Journal of Business Strategy, and the Oxford Handbook of Innovation Management. His insights and thought leadership on the future of strategy and competition was used by the U.S. Army War College to position innovation initiatives and capability development for its Third Offset Strategy, a new doctrine by the Department of Defense to achieve broad-based innovation across the spectrum of concepts, research and development, leadership education and business practices. John introduced 'marketing ecosystems' as a mainstream business idea, and was the first to use design thinking to solve complex market access and integration challenges in the pharmaceutical industry.
John is also a guest lecturer on strategic transformation and health system innovation at leading professional organizations and business schools, including ISPOR, the Population Health Colloquium, the California Association of Physician Groups, Cambridge University, ESCP Europe, the RAND Corporation, New York University Stern School of Business, New York Medical College, Rutgers Business School, and McGill University.

In his most recent role as Chief Strategy Officer, Healthcare for Cognizant Technology Solutions (NYSE: CTSH), John led industry strategy, mergers and acquisitions, market development, strategic sales and executive engagement for new value propositions and emerging technologies across Cognizant's $4 billion healthcare portfolio. Before joining Cognizant, John was the Global Head of Health Market Strategy, Innovation and Technology for Wipro (NYSE: WIT), a leading technology services company. Prior to Wipro, he led the U.S. Healthcare Practice at RAPP, a CRM/marketing service within Omnicom Group that helped clients deal with the emergence of a digital sixth sense. While at RAPP, John led digital strategy and consumer experience design for the launch of Solvadi, Gilead Sciences' cure for Hepatitis C and one of the biggest-selling drugs in the history of the pharmaceutical industry. He also directed the development of patient engagement as a strategic pillar for JNJ Diabetes Solutions, and was part of the launch team for Lipitor.
You Might Also Be Interested In...