Why Attend ISPOR Tokyo?
What Does an ISPOR Asia Pacific Conference Offer?
ISPOR is recognized globally as the leading educational and scientific organization for health economics and outcomes research (HEOR) and its use in healthcare decisions. If you want to meet people in the HEOR field, discuss the latest trends, and learn from the experts, attend ISPOR Tokyo!
The ISPOR Asia Pacific conference features three thought-provoking plenary sessions and more than 650 presentations in the form of workshops, issue panels, forums, symposia, and podium and poster presentations on innovative research methods, health policy development using outcomes research, patient preferences, real-world data, and clinical-, economic-, and patient-reported outcomes.
In addition, ISPOR offers a series of preconference short courses (training) on trending topics in the HEOR field. ISPOR short courses range from introductory to advanced and are taught by leading experts in the field, with many incorporating group exercises and hands-on training opportunities!
Who Attends?
The ISPOR scope and sphere of influence comprises the international HEOR community: global leaders, policy makers, regulators, researchers, academicians, payers, decision makers, patients, and patient groups. This multistakeholder group is invested in using science and research to make better healthcare decisions. The diversity in work environments and international scope of attendance provide excellent networking opportunities and stimulating discussions and debate.
Why Attend?
Learn about different and innovative applications in the conduct and use of HEOR.
Engage with recognized global experts in the field.
Network with colleagues, collaborators, and clients.
Share your research and ideas with other ISPOR members in an open and objective environment.
Stay current on emerging trends in healthcare.
Advance your career by being and active participant (eg, attend an ISPOR short course or network with recognized leaders in HEOR).
A Reflection on the Last Asia Pacific Conference:
ISPOR Asia Pacific 2016, Singapore
1,283 delegates | 53 countries represented | 650+ presentations 29 exhibiting companies | 7 event sponsors
"My first time ISPOR attendance and that's too as a travel grant winner was really awesome. From the part of professionalism to high-quality learning experience has opened several doors to spread ISPOR activities in my institute…"
"Very informative, especially for someone who is new to the role of market access. The sharing of experiences from different countries is useful."
ISPOR 7th Asia Pacific Conference attendees
Source: Online Conference Evaluation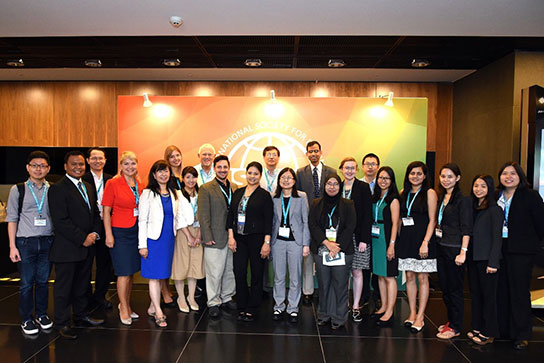 You Might Also Be Interested In...